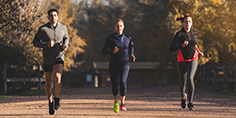 It is a beautiful Sunday morning.
You go to the park. There you see a group of 5 men jogging, almost in sync. You see a young woman running, with her earphones plugged in. You are knocked off your way by a bunch of senior women brisk-walking in a group, discussing the events of the last day. You chance upon a father-son duo playing a game of badminton. There is another bunch of grey-haired men laughing their hearts out. You see a group of young boys playing football in the distance. Why do people indulge in these activities?
You would say because they want to lose some weight. Really? Think again. You say they do it to keep fit. Well, you may be right on this one. But they really do these activities every day because when they exercise, they feel good. Surprised?
It has been proven that when a person exercises, one's body releases endorphins- chemicals stimulate the happiness he/ she feels. This is what motivates them to go back and work out again the next day. Moral: Exercise to be happier!
Moreover, when you exercise you shut out all the stress in your life. It is as if for a while, all those problems don't even exist. As if for a while, it's you, your body and everything else doing exactly what it should. It is a wonderful way to de-stress.
When we talk about seniors particularly, exercise helps promote better mobility. It keeps the brain active and the heart strong. It helps keep them healthy and avoid a lot of bodily distress that a person usually develops with age. It, in a way, prolongs life.
Yoga is a particularly beneficial form of exercise. It strengthens body systems and one feels younger and stronger. Yoga also gets one to connect with oneself spiritually. You feel one with nature.
Half an hour of basic warm-up exercises in the morning are great too. Exercise the neck, hands, legs, hips, spine, knees, elbows, fingers, toes, shoulders, facial muscles, calves etc. Such exercises help improve circulation and are a great kick-start to the day. They reduce chances of bodily fatigue.
Swimming regularly is a great fitness mantra. Plenty of seniors complain of pains around the joints in the knees, back etc. When one swims, the body is not exercising of its own accord, it is doing so with help from the water. This ensures that joints do not ache.
Or you could look at light dancing; the idea of dancing is itself making you happy, isn't it? It is a great stress-buster. It makes you feel energetic and adds so much rhythm to life. Happiness aside, it also helps improve flexibility and keep you active.
Regular walking or jogging has been shown to boost mental health. One also feels very active. Take walks in the garden, smile at people or take rounds around your home and watch the neighbor's kids playing, take your pick.
Exercise is a medicine-less answer to problems- varied kinds of problems, in fact. Do give it a shot!