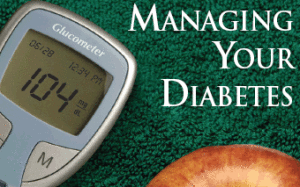 The other day, I came about this article on the web. It was about a woman who wanted a second chance- at life. All through the write-up she was constantly talking about all the things she would have done differently. She was a diabetic. She wished she would've taken out some time to eat right and stay happy. From my experience, she is not the only one who has this simple wish.
Every year, about a couple of million people in the USA alone are diagnosed with Diabetes. If you are reading this and are a diabetic, you are not alone. If you are reading this and are not a diabetic, well you certainly should beware of Diabetes.
A Diabetic can either wonder what he/ she should've done right or can set about managing it. My grandfather has been a Diabetic for over 20 years now. He has been on oral hypoglycemic agents all through. Grampa has had his crazy times with Diabetes, but over a period of time has learnt the knack of living with it- happily living with it. His day typically includes about 3 miles of brisk walking. He takes 5 meals a day – 3 big meals and 2 small meals- a wholesome 9.00 am breakfast, an 11.00 am bowl of fruit, a well-balanced lunch, a little post-nap afternoon snack, an early dinner and a bedtime snack. He takes his medicines on time and ensures he is worry-free. His regular tests typically meander at a safe distance from the danger zone. And once in way while when it shows a lapse, he instantly shifts his diet to something healthier.
So can you be a happy Diabetic? Yes, of course you can. Question is, are you willing to go the mile?
Here, are a few easily available foods to spruce up your kitchen with if you are living with diabetes:-
Roasted flax seeds and raw or soaked fenugreek seeds help improve blood sugar levels and keep bad cholesterol under check
Excellent sources of proteins- soy and beans lowers  BP
A lot of vegetables since they are rich in fiber
Milk products, eggs
Fish rich in omega-3 fatty acids
Include Anti-oxidant rich foods such as blueberries, broccolis, apples, avocadoes, tomatoes in your diet.
Eating fruits in moderate amounts is acceptable. Nuts such as walnuts, almonds can be eaten as the small snack between meals.
Restrictions:-
Sugar
Refined flour products like bread
Roots and tubers
Fruit juices (fruits are beneficial; not fruit juices)
Aerated drinks
Non food:-
Any form of physical activity or exercise such as yoga, walking, cycling etc should be undertaken. It is a major sugar control measure
Weight control- make certain you are within your BMI
Counseling is of paramount importance to help stay disciplined
Regular Eye checkups
A six hour to eight hour sleep
Stress management, laughter therapy
Make better lifestyle choices
The above measures, if taken, will help control your blood sugar levels and enable you to in turn enjoy a comfortable, healthy, happy life.